Because I got a lot of questions about my trip to Paris, I decided to make a post about it and give you some advices if you're planning a trip to Paris. As you might know I spent there 5 nights with my friend. I want to give you tips what to do, where to go or what to book.
Jelikož mi přišlo celkem hodně dotazů ohledně mého výletu do Paříže, rozhodla jsem se, že bych se o tom všem s Vámi chtěla podělit v příspěvku. Před nedávnem jsem tam strávila 5 nocí a myslím, že by se Vám něco mohlo hodit - např.: kam jít, co není potřeba vidět nebo který hotel si zarezervovat!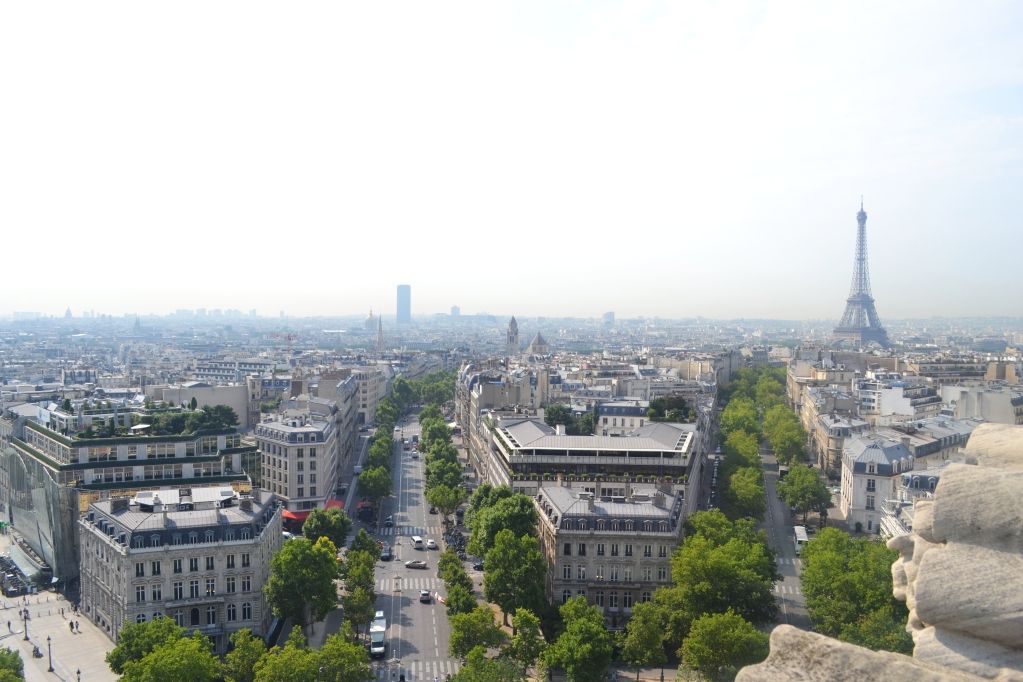 I am from Europe which is a big advantage for me because I can fly for less money than people for example from US. I booked my ticket at www.easyjet.com. The price for a ticket to Paris and back to Prague was about 130

$. I think that is a good price. If you wanna take a bag on board it has to be within 56x45x25 cm. All none board bags you must pay extra. However there is no weight limit for the board bag, so you can give a lot in the only bag you can take with.
Z Prahy létá několik nízkonákladových linek do Paříže, což samozřejmě nestojí tolik jako klasické linky. Já si letenku koupila na www.easyjet.com (tam i zpět) za necelých 2 500 Kč. To mi příjde jako rozumná cena (vzhledem k tomu, že autobusem to stojí 2 000 Kč). Pokud si chcete brát kufr do zavazadlového prostoru, musíte si připlatit (jak už to u nízkonákladovek bývá). Na palubu je povoleno jenom jedno zavadlo a to v rozměrech
56x45x25 cm. Naštěstí není žádné váhové omezení, takže tam toho můžete nacpat cekem hodně. Let z Prahy na letiště Charlese de Gaulla trvá 1 hodinu a 20 minut. Cesta z letiště do města pak kolem hodiny.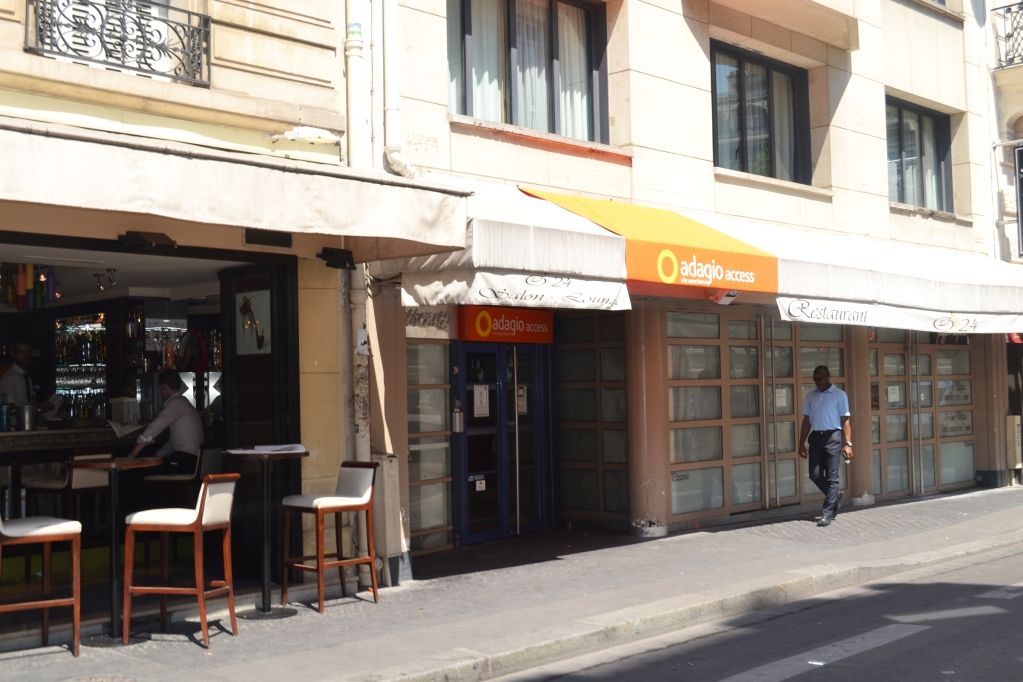 HOTEL
There are a lot of hotels in Paris you can stay at. From cheapest Formule F1 till the luxurious Hotel Ritz with Coco Chanels apartement. We decided to book a studio for two in Adagio-Acess Paris Tilsitt Champs-Elysées. The room for 5 nights for two people with breakfast was 406 euros (203 euros per person). It has 3 stars and we really liked the location - it is only few meters from the Avenue Champs Elysées and the metro or bus connections are near as well. It was clean and there was even a small kitchen in the room. I paid additional 7.70 Euros for a breakfast for each day, and it was in the room! The pick was really big - a roll, croissant, some sweet roll, a yoghurt, butter, some cheese, marmalades, juice and hot drink of your choise.
V Paříži máte bohatou nabídku hotelů - lévné, na okraji jako je Formule F1 nebo luxusní Ritz s apartmá Coco Chanel. My jsme se rozhodly pro hotel
Adagio-Acess Paris Tilsitt Champs-Elysées. Studio pro 2 lidi na 5 dní se snídaní vyšlo na 482 euro, tedy na 241 euro pro jednoho. Jedná se o 3 hvězdičkový hotel, ze kterého to trvá asi minutu pěšky na Champs-Elysées. Metro a autobusy jsou víceméně hned u hotelu (asi 2 minuty pěšky). V hotelu bylo velice čisto. Zaplatila jsem si snídani za 7.70 euro na den a přinesli ji přímo na pokoj v hodinu, kterou jsem si určila. Výběr byl velký - bagetka, croissant, nějaké sladké pečivo, jogurt, máslo, mazací sýr, marmalády, džus a horký nápoj Vašeho výběru.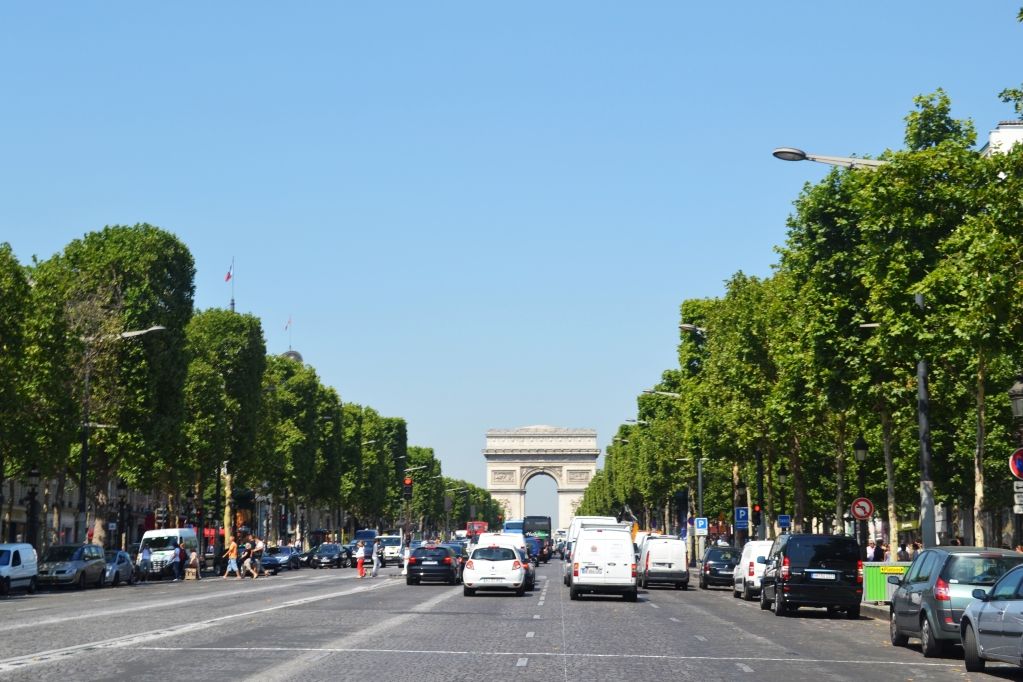 TRANSPORT IN PARIS - DOPRAVA
In Paris we went by feet. But of course we were not able to get everywhere by our feet, so we went there by metro or hop-on-hop-off-buses. We bought a Paris Teen Pass (www.parispass.com) for 4 days for 77 euros. With this pass you have a free entry to more than 200 museums including Louvre, Notre Dame or Seina Cruise Tour, unlimited metro for 1-3 zone, buses or trams plus 2 days hop-on-hop-off-buses, 10% sale in Galeries Lafayette and more with this pas. This was a very good purchase, because you save a lot of money on the ways.
V Paříži jsme chodily hlavně pěšky. Ale samozřejmě, že jsme se všude nedostaly po svých, takže jsme jezdily také metrem nebo hop-on-hop-off-autobusy. Koupily jsme si přes internet (www.parispass.com) Paris Teen Pasy na 4 dny za 77 euro. S těmito pasy máte pak zadarmo neomezenou dopravu metrem v zónách 1-3, autobusem, tramvajemi, 2 dny v hop-on-hop-off-busech, vstup do více než 200 muzeí včetně Louvru, dále pak třeba vstup do Notre Dame, Versailles nebo projížďku na Seině, atd. To nám ušetřilo nejen hodně peněz, ale i času.
SIGHTSEEING - PAMÁTKY
YOU HAVE TO SEE
1) If you are planning a trip to Paris, you have to see Eiffel tower. This domain of Paris built in 1889 is something you have to see. I recommend to book the tickets through the internet, because the rows are too long. However, we decided to do it too late, so there were no place left. Book this as first. But we booked a dinner at the Eiffel tower for 70 euros. The places are there hard to get as well, so make it like 2 months before your arrival to Paris.
2) What I was really excited about was the Act de Triomphe on Champs-Elysées. The view is amazing and I recommend to go to the Eiffel tower in daytime and to the Arc in the nighttime, so you can have view of day and night Paris!
3) Trocadéro has a really amazing view of Paris! It is definitely to worth to go there in the morning to see the Eiffel Ťowe in the daytime, but in the evening too. If you wait there, you have a perfect view of shiny Eiffel Tower.
1) Pokud plánujete výlet do Paříže, určitě musíte vidět Eiffelovu věž. Tato doména Paříže vybudovaná v roce 1889 patří k nejnavštěvovanějším místům na Zemi, takže jí nesmíte nevidět. Velice doporučuji si lístky nahoru zarezervovat po internetu a to s velkým časovým předstihem. Nás to napadlo až 14 dní před odletem, a to bylo už pozdě. Ale nakonec jsme si zarezervovaly večeři v 1.patře věže, ale i tam sehnat místa není lehké. Pokud chcete mít 100% zaručeno, že se tam podíváte - rezervujte si místo alespoň 2 měsíce dopředu.
2) Místo, které mně příjemně překvapilo, byl Vítězný oblouk na Champs-Elysées. Výhled je úžasný a doporučuji jít na Eiffelovku dopoledne a na Oblouk večer, aby ste měli výhled na denní i noční Paříž!
3) Trocadéro je místo, kam bystě měli 100% zajít. Je tam opravdu skvělý výhled na Eiffelovu věž a perfektní na focení. Doporučuji tam jednou zajít ráno a jednou večer.



YOU CAN SKIP
1) The castle Versailles is something you don
't need visit. I think there are more enjoyable things to see in Paris than the Versailles castle. I have been there myself once. This trip takes like a day, because it is out of the centre. If you
'
re not a big fan of baroque, Marie Antoinette or castles, just leave it.
2) Another sight you don
't have to see is the Louvre Museum. I have been there in July 2010 and that was enough. It is nice to see some art, but if you are not deeply interested in the paintings, you don
't understand it very well, and that
's useless. Plus you have to spend there relative a lot of time.
1) Versailles bylo svého času nejznámnější a nejopěvovanější místo na světě, ale dnes ho vidět nemusíte. Na Versailles si naplánujte tak jeden celý den - zámek se nachází až za městem a samotná cesta trvá hodinu a tři čtvrtě (spoje nenavazují) a projít ho také něco trvá. Pokud nepatříte mezi horlivé fanoušky baroka, zámků a Marie Antoinetty - určitě můžete návštěvu vynechat.
2) Další památku, kterou nemusíte vidět je Louvre. Sice je to jedno z nejznámějších muzeí umění na světě, ale ten, kdo se nevyzná v obrazech, sochách a umění, tomu to nic neřekne. Navíc prohlídka celého muzea zabere 4 - 8 hodin.

SHOPPING - NÁKUPY
Paris is Mekka of fashion. This is a known fact and it
's perfect for shopping.
On Rue du Champs-Elysées and Rue du Rivoli you can find international stores such as H&M, Zara or Naf Naf, but also Louis Vuitton or Chanel. I am a huge Chanel fan, so if you wanna see store founded by Coco herself, go to Rue du Cambon. A luxury shopping centres are Galeries Lafyette (Acné, Gucci, etc. ) or La Marché. The "normal" prices you can find in a shopping centre called Le Quatre Temps located in La Defénse, where you can shop in American Apparel, Zara, H&M or other stores. Never go to Forum des Halles - loss of time!
*Tip: What a lot of people don
't know is, that in Galeries Lafayette there is free fashion show every friday at 3 pm. The booking and entry is free (www.galerieslafayette.com). You just have to mail them and they will send you a confirmation. The show lasts about 30 minut, is in a private lounge and everybody there becomes 10% sale on next purchase in Galeries Lafayette!
Paris je hlavním centrem módy. To je známé a také proto jsou (skoro) všechny obchody zastoupeny v Paříži. Na Champs-Elysées a Rue du Rivoli najdete všelichuť obchodů - těch cenově přijatelnějších jako H&M, Zara nebo Naf Naf, ale i luxusní klasiky jako je Louis Vuitton, Prada nebo Chanel. Máte-li zájem podívat se do obchodu založeného samotnou Coco Chanel, vyjdejte se pak na Rue du Cambon. Ty luxusnější nákupní domy jsou Galeries Lafayette (Acné, Gucci, atd. ) nebo La Marché. Obchodní dům s nižšími cenami je pak Le Quatre Temps v moderní čtvrti La Defénse, kde jsou obchody jako je American Apparel, Zara, H&M, ... Forum des Halles nestojí za nic - jednoduše ztráta času!
*Tip: Hodně lidí neví, že se v Galerii Lafayette každý pátek ve 3 odpoledne pořádá módní přehlídka v privátních prostorech v 7.patře. Vstup i rezervace (www.galerieslafayette.com) jsou zdrama. Celá přehlídka trvá zhruba 30 minut a každý pak dostane 10% slevu na nákupy v Galerii!

RESTAURANTS - RESTAURACE
Paris is know for the delicious French food as well. If you are there you shouldn
't miss a visit of Ladurée od Pierre Hermé. I like Ladurée better, but that could be just my personal feeling. These cafés sell original french deserts and of course - real macaroons. They taste like heaven! The prices in the restaurants in Paris are definitely higher, especially when you eat in the city centre. Better find some restaurant in smaller street, not in big avenues - they
're overpriced! We bought food in Starbucks or Paul. Even these restauarant were really more expensive.
Paříž je také známa pro svoje vynikající jídlo. Když už tam jste, neměli byste vynechat Ladurée nebo Pierre Hermé, kde prodávají ty pravé francouzské dezerty. A samozřejmě si tam musíte dát makronky! Chutnají tam opravdu božsky. Co se jídla týče, je o hodně dražší než u nás, ale na druhou Paříž je velkou metropolí. Nejdražší bývá jídlo na hlavních třídách, takže o něco levněji se najíte v menších ulicích. My jsme si jídlo kupovali ve Starbucksu nebo Paulovi, které byli oproti Čechám asi tak 2x dražší.