You know that my biggest wish for Christmas was to get a new lens for my camera. Well, I am so excited about this lens, here are the first photos with it and I am really happy about the quality! I would never say that a lens is more important than a camera itself. Today I have worn a burgundy dress and I took over it a sweater with sequins which I got as a present under the Christmas tree. I do not like knee high boots that much, but I like mine from USA. I have worn golden details, like my watch and of course my Céline bag. Eventhrough outside is no snow, it is still cold, so I put my favourite fur vest over it. I am really happy and I got a lot of lovely presents under the Christmas tree, which I will show you later. I hope your all wishes came
true. And what you found under the tree?
Víte, že mým největším přáním byl objektiv. Už teď, po pár fotkách, jsem s ním maximálně spokojená a rozdíl kvality je zřetelný. Vždycky jsem si myslela, že foťák je důležitější - naopak, objektiv je důležitější než sám foťák. Dneska jsem na sobě měla vínové šaty, přes které jsem si oblékla svetr s korálky a flitry, který jsem našla pod stromečkem. Vysoké kozačky se mi moc nelíbí, ještě když nemají podpatek, ale minulý rok
v USA jsem si pořídila tyhle (které jsou na náledí skvělé) a ty se mi jako jedny z mála líbí. Doplňky jsem zvolila zlaté a samozřejmě k tomu Céline. Venku sice už sníh roztál, ale žádné velké teplo tam není - proto jsem si přes svetr vzala ještě kožešinovou vestu. Mám velikou radost ze všech dárků, co jsem dostala.Ukážu Vám je později. A co jste našli pod stromečkem Vy? Jste spokojeni?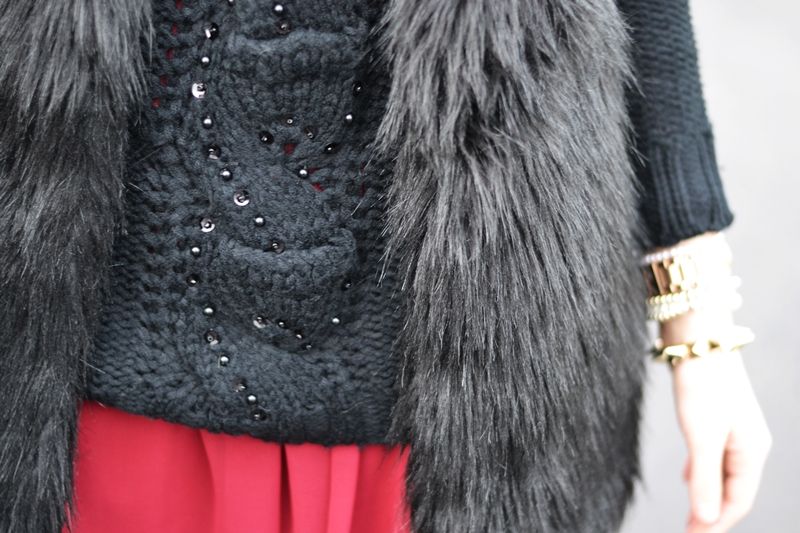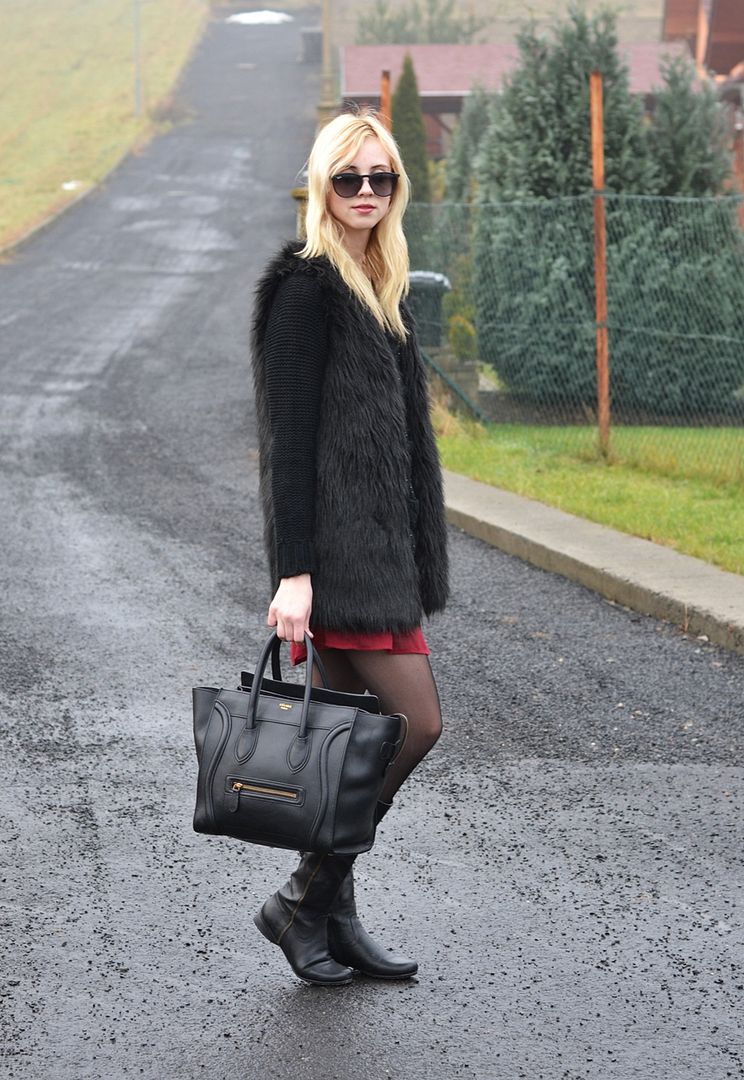 dress (as skirt ) -
Forever 21 /
sweater -
Zara /
fur vest -
Romwe
(
link
) /
tights -
H&M /
watch -
Michael Kors /
bracelets -
Lindex, H&M /
bag -
Céline /
boots -
Nine West /
sunglasses -
Ray Ban