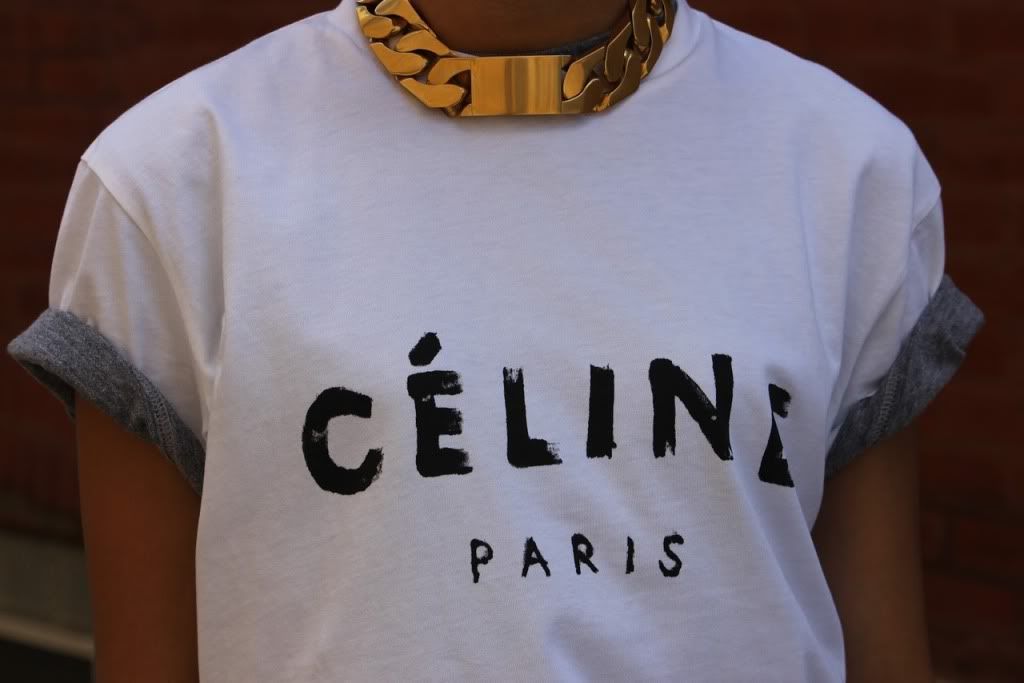 I have prepared another giveaway for you. This time you can win this Céline signed blogger shirt from
Hudiefly
on Etsy! (no real Céline shirt, just a Céline sign) This shirt is a must have and it is sold out almost everywhere, so it is hard to get this. I, personally, love this shirt and I also have ordered one from them! Continue reading for more information and rules.
Dneska jsem si pro Vás připavila další giveaway. Soutěžit se bude o tohle blogerské tričko s nápisem Céline od Hudiefly na Etsy.com! (tričko není značky Céline, jenom je s nápisem Céline) Tričko s tímto nápisem je absolutní must-have a je velmi těžké nějaké sehnat - všechny jsou už vyprodané. Mě, osobně, se moc líbí a také jsem si jedno u nich objednala. Pokračujte ve čtení pro více informací a pro pravidla.
RULES OF THE GIVEAWAY
1. You have to like Hudiefly on
Facebook
(
here
)
2. You have follow Hudiefly on
Twitter
(
here
)
3. You have to be a follower of this blog through Bloglovin or Google Connected Friends
4. Leave a comment with the names you are liking and following + tell me your email contact adress
The giveaway runs till 16th, November. Then I choose randomly one lucky winner, who will be announced on my facebook fanpage. Good luck to you!
PRAVIDLA GIVEAWAY
1. Likujte Hudiefly na Facebooku (tady)
2. Followujte Hudiefly na Twitteru (tady)
3. Musíte sledovat Voguehaus pomocí Bloglovin nebo Google Connected Friends
4. Okomentujte tento příspěvěk - nezapomeňte zmínit jména, kterými sledujete Hudiefly na obou sítích + Vaší kontaktní mailovou adresu
Giveaway končí 16.listopadu. Výherce vylosuji náhodně a bude oznámen na facebookových stránkách Voguehaus. Přeji Vám hodně štěstí!