You might already know from my Instagram account that I have purchased the Hamilton N/S tote by Michael Kors. In this article I would like to tell you something more abut the bag and give you some tips about the purchase. First I have to say, that I had to echange the bag because it came with a
hole in it. I hope my new one will arrive soon. Just do not wonder, that there will be no outfits with it. I am just waiting for my new one.
Z mého Instagramu už můžete vědět, že jsem si objednala Hamilton N/S tote od Michaela Korse. V tomto článku bych Vám kabelku ráda přestavila a případně dala tip, kde ji koupit. Jako první ale musím říct, že mi přišla s malou dírkou. Proto ji odesílám zpět a nová by mi měla přijít co nejdřív. To je
důvod, proč tu s ní nebudou zatím žádné outfity. Samozřejmě z toho vůbec nadšená nejsem, ale stát se to může, i když nemělo by.
(Hamilton N/S tote - Black leather, silver details)
Eventrough I am a "gold" person, I liked this bag in silver more. The golden version seems "too yellow" for me and I am also happy to have one bag with silver details. I do not like the sarafino version. I wanted the leather version, which is really hard to get. Fist I wanted to order it on
Fashionette
and leave
it ship to Germany, but that evening when I wanted to order it, it was sold out. Luckily it was in stock on
Net-a-porter
. I was happy about ordering it from a European eshop, because I did not have to pay any extra tax.
I když jsem typ člověka, který upřednostňuje zlatou, Hamilton bag se mi líbí víc se stříbrnými detaily. Zlaté mi připadají moc žluté. Také jsem chtěla pravou koženou, Sarafino verze se mi nelíbí. A sehnat tuhle verzi bylo opravdu těžké. Nejdřív jsem si kabelku chtěla objednat z německé stránky
Fashionette
,
ale ten večer, co jsem si ji chtěla objednat, už nebyla k dostání. Naštěstí ji zrovna ale dodali na
Net-a-porter
, kde jsem si nakonec koupila. Jsem šťastná,
že jsem si sehnala na evropském eshopu, protože díky tomu jsem nemusela platit clo ani dph (do Německa, do Čech se platí poplatek 19 euro).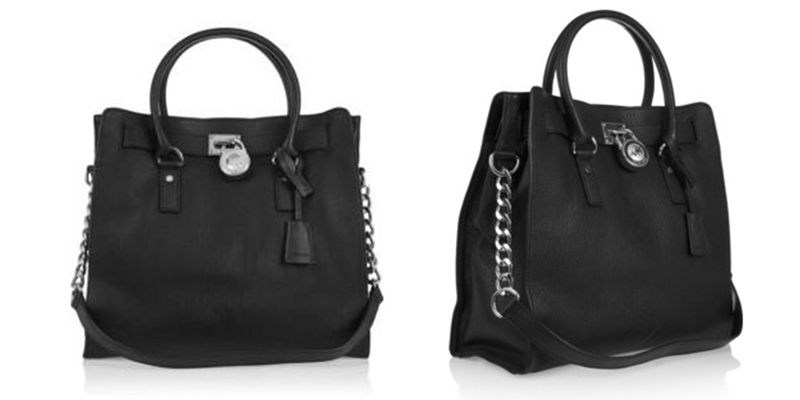 It was despatched the next day after purchase. I chose the standart shipping for 15 Euros and it came within 4 days. The bag is unfortunately sold out again. Here is the
direct link
. It should be in stock in some days. The bag itself is really big. I was suprised how big it actually is, I can fit there all I need. Also I have read that the bag is like super-heavy - not true, the weight is okay. If you have any questions about the bag, do not hestitate and ask me! Also, when I buy some bag in the future, I will do a post like this!
Balík mi poslali hned následující den, co jsem kabelku zaplatila. Vybrala jsem si normální doručení za 15 euro a balík dorazil během necelých 4 dní. Bohužel už je zase vyprodaná, ale určitě jí znovu dodají. Přímý odkaz neleznete
tady
. Kabelka sama o sobě je velká. Čekala jsem ji menší a jsem rozhodně příjemně překvapená. V recenzích jsem četla, že je těžká - mě těžká nepřijde, přijde mi akorát. Jestli máte nějaké dotazy, můžete se ptát tady nebo na Formspring. A odteď budu dělat takovýto post o každé nové kabelce!
Follow on Bloglovin
-
Like me on Facebook
-
Follow on Twitter
-
Ask me on Formspring