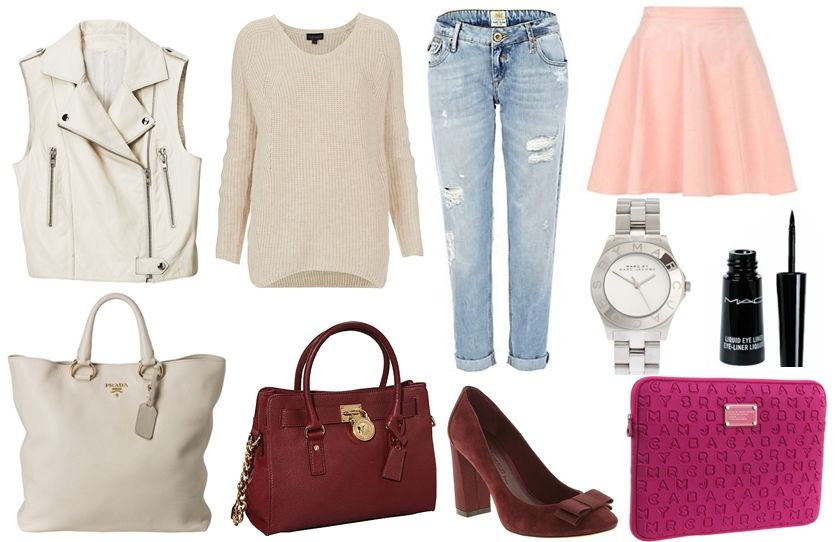 I have already mentioned in one of my previous posts that I will go on a vacation, but I did not say where it will be - it will be (not only) USA. Because I can buy there everything cheaper, I did not buy anything in last months, because I wanted to buy everything there. My wishlist is
really full and these are not the only things I would love to buy there. But these are the "main" that I would love to share with you.
Už v některém z minulých článků jsem se zmínila, že se chystám na dovolenou - konkrétně do USA. V posledních měsících jsem si víceméně
nic nekupovala, protože jsem si chtěla koupit všechno až tam. Vyjde to tam mnohem levněji než u nás a tak se tam chystám nakoupit "resty", ale hlavně věci na jaro a léto. Jelikož se odlet blíží, sestavila jsem si wishlist věcí, které bych si ráda pořídila. Není na něm všechno, co bych si ráda koupila, jen takové "hlavní věci".
WHITE LEATHER VEST
Last summer I have bought a leather vest in black and it was my favourite for summer. This time I would like to get one in white.
SWEATERS
I love sweaters and I have to buy a lot of them in different colours. I would like to get some statement, but also some fresh spring colours as well.
BOYFRIEND JEANS
I got totally crazy about them. I need some boyfriends jeans in my closet. I really love how they look like, especially with heels!
SKIRTS
I need some in nude, white or minty. I really want to get prepared for summer and buy them in light colours.
PRADA BAG
I am going to Sawgrass Mills Outlet, where it is located the Prada outlet. Because I do not have any cream bag in my collection, I would love to buy this one. It is really cheaper in the outlet. Also, I am thinking about
this one
. It depends on the pick they will have there.
MICHAEL KORS BAG
In the outlet there is a store of Michael Kors. I would like to get there a bag in burgundy. I really love this colour and I think it might be a good pop up for some outfits.
COLOURFUL PUMPS
I would love to buy some heels in burgundy, nude or even blue. I think they really take the outfit to another level. I need to find some really comfortable ones.
MARC BY MARC JACOBS WATCH
I started to wear a lot of silver details and that is the reason why I would love to get a watch by Marc Jacobs. There was one store in the Outlet that sold them for a very good price.
MAC EYELINER
Last time when I was in the US I forgot to buy an eyeliner at the MAC store. I really did not want to buy it in Europe, since it is way cheaper in the US.
MARC BY MARC JACOBS LAPTOP CASE
I have got a new notebook under the Christmas tree and I would love to get some nice cover for it. Right now I have one big black case. I want some smaller, which needs less place in my suitcase.
BÍLÁ VESTA
Faux leather vest jsem si koupila minulý rok v černé. Ráda nosím vrstvy a koženková vesta je pro mě "vrstvou" číslo jedna, hlavně v létě. Chtěla bych si koupit jednu v bílé.
SVETRY
Svetry miluju a proto bych si chtěla nějaké pořídit. Chybí mi třeba v "nude", růžové, žluté nebo modré.
BOYFRIEND JEANS
Už nějaký ten pátek je scháním, ale zatím jsem na ně v žádném obchodě nenarazila. V USA je výběr mnohem, mnohem větší, takže bych byla ráda, kdybych na nějaké narazila právě tam.
SUKNĚ
Chtěla bych "obyčejné" v zářivých jarních/letních barvách, jako nude nebo mátová.
KABELKA PRADA
Momentálně žádnou krémovou kabelku nemám a na léto bych nějakou chtěla. Jelikož se v USA chystám do outletu na Miami, kde je outlet Prady, chtěla bych si jí tam koupit. Opravdu se tam vyplatí. Ještě přemýšlím o
téhle.
Záleží na tom, co tam budou mít. :)
MICHAEL KORS KABELKA
A jaká kabelka mi ještě chybí? Barevná. Burgundy jsem si zamilovala a proto bych si chtěla koupit jednu od Michaela Korse. Myslím, že outfit celkově rozzáří. Jelikož v outletu je i Michael Kors, mohla by tam vyjít opravdu levně.
BOTY NA PODPATKU
Na léto žádné nemám. Přemýšlela jsem o vínových, "nude" nebo klidně i modrých. Celkově outfit rozzáří. Najít nějaké pohodlné nebude lehké, ale věřim, že nějaké najdu.
HODINKY MARC BY MARC JACOBS
Jelikož jsem začala nosit hodně stříbrných doplňků a na hodinky jsem si zvykla, chtěla bych tyhle od Marc Jacobse. Líbí se mi už delší dobu a minule jsem je viděla v jendom obchodě v outletu. Ano, do teď lituju, že jsem si je tam nekoupila. Snad to teď napravím.
TEKOUTÉ LINKY MAC
Jediné, co jsem si minule v MAC nekoupila, jsou tekuté linky. Začala jsem nosit culíky a drdoly, ke kterým se hodí zvýrazněné oči. U nás se MAC opravdu nevyplatí a tím, že jsem plánovala cestu za oceán, jsem si je v Čechách kupovat nechtěla.
OBAL NA NOTEBOOK MARC BY MARC JACOBS
A k novému notebooku bych chtěla nový obal. Momentálně mám takový ohromný černý, který mi zabírá půlku kufru. Tenhle se mi líbí, protože vypadá stylově, počítač ochrání a hlavně nezabere tolik místa.
A co máte na wishlistu Vy? Taky už plánujete nákupy na jaro?