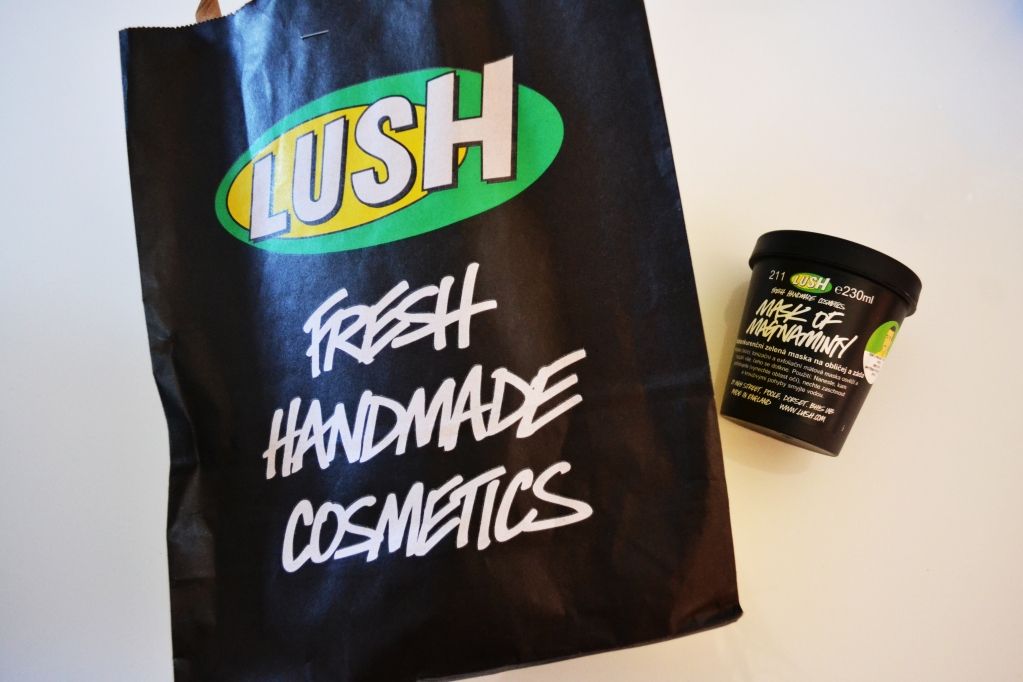 I really wanted to try some LUSH product. I was looking for something for my skin and something that could help me. This mask is perfect for me and it is not a random, that the Mask of Magnaminty belongs to the bestsellers on their website and that there are so many recommendations and positive ratings!
Už delší dobu jsem chtěla vyzkoušet nějaký LUSH produkt, ale nevěděla jsem jaký. Výběr Lushe je opravdu veliký, ale nakonec jsem našla, co jsem hledala a to Mask of Magnaminty - pleťovou masku. Není náhoda, že tato maska patří na jejich webových stránkách k bestsellerům. Četla jsem na ní hodně recenzí a všude jí velice chvátily. Rozhodla jsem se jí vyzkoušet a zde si můžete přečíst nějaké informace o masce, ale i můj vlastní názor.
What is the Mask of Magnaminty?
The Mask of Magnaminty is a handmade cleaning mask not only for your face (but for your arms, back,... as well). The mask is made of natural ingredients which help to improve your skin.
How you could read in my post about the Lush presentation, they offer 100% natural products. As the smell spills, the main ingredient in this mask is peppermint. The basis includes china clay, loads of aduki beans or vanilla. Every mask made some Lush assistant. Who created your mask you can read on the cover. For example mine made Peter. On the top of the mask you can find the date of expenditure.
Put the mask on your clean skin (face, arms, back) for about 15 - 20 minutes. Then wash it down. Do not put the mask near the eyes area!
Co je "Mask of Magnaminty"?
Mask of Magnaminty je ručně vyráběná čistící maska nejsem pro obličej (ale i záda, ruce,...). Je vyrobena jenom z přírodních ingrediencí, které pleti pomůžou. Každou masku vyráběl zaměstnanec Lushe. Například mojí vyrobil Peter. Kdo vyrobil Vaší masku se dočtete na zelené samolepce na obalu. Na vrchním zavírání pak najdete datum spotřeby.
Ingredience
Maska je 100% přírodní. Jak už prozrazuje vůně, hlavní ingrediencí je máta (přesněji silice z máty peprné). Mimo toho se v masce nachází čínský jíl, bentonitový gel, mleté fazolky aduki a pupalková semena. Všechny tyto přírodní ingredience mají léčivé účinky.
Použití
Masku naneste na dané místo (obličej, ruce, nohy) a nechte 15 až 20 minut působit. Pak smyjte vodou. Masku byste neměli dávat do oblasti očí.
I gave 5 stars in cleaning because it makes your skin really clean. You have a fresh feeling and your skin feels fresh after using it!
The mask makes your skin really fresh because of the peppermint. You feel so much better and not tired.
Fight against acne, black dots
★
★
★
★
★
I rated with only 5 stars. After using it for the first time, I could see that the amount of my black dots is definitely less. The mask helped me with my acne issue as well.
I rated the cannienes with only 4 stars. Me, personally, had no problem with mask at all, but my friend with a sensitive skin had some allergy on the peppermint. I have read that the mask makes your skin really dry. I have an oily one and I have to admit that it dried my skin a little, but for me in the good way.
It is true that the smaller version is 12 USD. That is relative more than most of the people would want to spend on a mask. But after seeing the result, I think it is really worth to buy. That is the reason why I rated with 4 stars.
My personal opinion and rating
I rated the mask with 5 stars. I do not do that very often, but I was really satisficted with the result of using the mask. My skin got softer and looked more fresh. Also some my black dots disappeared and some acne as well. I had no problem with the peppermint at all - not even with the smell. I liked that.
The mask makes your tired skin really fresh. I can only recommend this!
You can buy the mask online HERE.
Očekávání x Realita
Čištění
★
★
★
★
★
Čištění jsem ohodnotila plným počtem hvězdiček, protože maska opravdu pleť vyčistí. Narozdíl od jiných masek jsem měla pocit, že se na pleti něco děje.
Svěžest
★
★
★
★
★
I se svěžestí jsem byla velice spokojená. Díky mátě Vám pleť osvěží. Navíc jsem se po smytí masky necítila unaveně.
Účinnost proti akné, černý tečkám
★
★
★
★
★
I tento úkol splnila maska na jedničku. Už hned po prvním smytí jsem měla černých těček míň (a to jsem si myslela, že se jich už nikdy nezbavím). Po více použití jsem měla i méně pupínků.
Šetrnost k pleti
★
★
★
★
Mě osobně maska velice vyhuvuje, ale např.: moje kamarádka s citlivější pletí měla problém s mátou. Pleť na to reagovala alergickou reakcí, která asi po půl hodině následně zmizela. Já sama ale s maskou nemám vůbec žádný problém. Naopak si ji nemůžu vynachválit. V mnoho recenzích jste se už mohli dočíst, že pleť trochu vysušuje. To je pravda. Já mám ale trochu mastnější pleť, maska jí konečně zkrotila na "normální".
Cena
★
★
★
★
I cenu jsem ohodnotila jenom4 hvězdičkami, protože většině lidí přijde 180 Kč za menší balení, a 310 Kč za větší balení celkem dost. Účinky masky jsou ale výtečné, opravdu s pletí něco dělá, a proto si myslím, že je dobré dát o něco víc, když budete s výsledkem spokojeni.
Vlastní názor a celkové hodnocení
★
★
★
★
★
Celkově bych masku ohodnotila 5 hvězdičkami, protože jsem z ní opravdu nadšená! Výsledek mě překvapil. Nečekala jsem, že mě černých teček zbaví a že mi pomůže i trochu proti akné. Také jsem ocenila pocit svěžesti po nanešení, obzvlášť po dlouhém dni. Někteří by mohli mít problém s mátou. Já osobně žádný neměla a mátu mám ráda, takže mi i vůně vyhovovala.
Maska pleť vyčistí, rozjasní a osvěží! Velice doporučuji!
Masku si můžete zakoupit ZDE.

Follow on Bloglovin
-
Like me on Facebook
-
Follow on Twitter