Some time ago I was asked in one of the comments to make a post about autumn and winter shoes. I had problems myself to find the perfect pairs for me and the style I liked the most, but here are some basic ideas I want to share with. Basicly I will talk here about boots because I am from Europe where winters are usually very cold and you need some good shoes when you dont want to freeze.
Před nějakým časem mě jeden ze čtenářů požádal o příspěvěk o botách na podzimu a zimu. Mě samotné trvalo asi 2 roky než jsem našla boty, které by se mi líbily, a ve kterých bych neumrzla. Dnes Vám je chci představit a třeba v nich naleznete inspiraci pro Vaše nové pro letošní sezónu. Vlastně se Vám ukážu jenom kozačky, protože si myslím, že se na podzim a v zimě nosí nejčastěji. Sice si někdy obuji conversky, ale to když je opravdu teplo, protože jinak bych v nich umrzla.
ANKLE BOOTS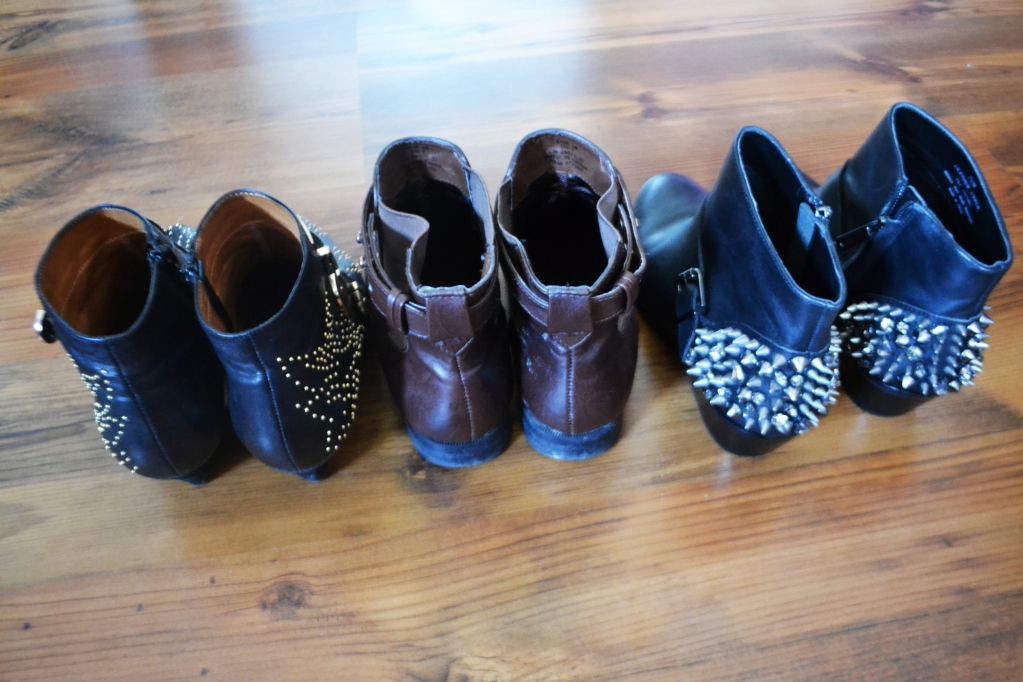 1. Jeffrey Campbell Starburst
(
buy here
) -
2. Chelsea boots H&M
(
similar here
) -
3. Sam Edelman
spiked (
buy here
)
Ankle boots is my first tip. They are easy to wore, because they go well not only with jeans but withskirts as well. I prefer them in colour black and brown because I can pair it with clothes the most. Plus my shoes get in autumn dirty easily and on black you can not see it on the very first sight. As you can see I have some "special" ones with studs by Jeffrey Campbell and spikes by Sam Edelman. I love both trends!

Ankle boots jsou mým prvním tipem. Lehce se kombinují a vypadají stejně dobře se sukněmi jako s džínami. Já je preferuji v černé a hnědé. Na podzim je hodně bláta a myslím, že krémové by mi vydržely čisté maximálně 5 minut. Jak jste si asi všimli, mám je ve "speciálních" provedeních - a tím myslím se "studs" od Jeffreyho Campbella a "spikes" od Sama Edelmana. Myslím, že kozačky jsou tak zajímavější. Já studs a spikes miluji!
WEDGE BOOTS
1. Steve Madded wedges
(
similar here
)
-
2. Romwe sneaker wedges
(
buy here
)
I think that the wedges is the most comfortable type of heels. At least for me. My legs never hurt me from wedges and I can walk in them better than on usual heels. I have one pair in classy black, which I wear to skirts and dresses in fall and winter. Some weeks ago I also received the "sneaker" wedges since they are so hot right now. I wouldnt change! Also I love them in gray, cream or wine colour!
Myslím si, že boty na klínku jsou jedny z těch nejpohodlnějších (na podpatku). Tedy alespoň pro mě. Nikdy mě z nich nebolí nohy a mohu v nich chodit po městě na kostičkách bez problémů. Jeden pár mám v klasické černé. Ty nosím na podzim a v zimě k šatům a sukním. Nedávno mi přišly i tak zvané "tenisky na podpatku", které jsou opravdovým hitem sezóny díky Isabel Marant. Mě se líbí a osobně bych je neměnila! Také se mi líbí v šedé, krémové nebo vínové.
UGG BOOTS
1. UGG with studs
(
buy here
) - they are from children section (size 38)
Most of the bloggers would kill me for this tip, but I actually like UGGs. I think they might look nice when you pair them well. I can not imagine winter without them - I put them on every tuesday when I run to my sport lesson and there is ice on the ground. These shoes saved my life. Never wear them to skirts, that looks very weird.
Za tenhle tip by mě většina bloggerů asi zabila, ale mě se UGG líbí. Když je umíte nosit, mohou vypadat dobře. A já si svůj život bez nich už nedovedu představit. Každou středu si je obuji, když běžím na hodinu tělocviku, je -15° a země je zledovatělá. Myslím, že to jsou důvod, proč neležím v nemocnici se zlomenou nohou. Nikdy je ale nenoste se sukní, to vypadá opravdu divně.
THE ALL TIME FAVOURITE BOOTS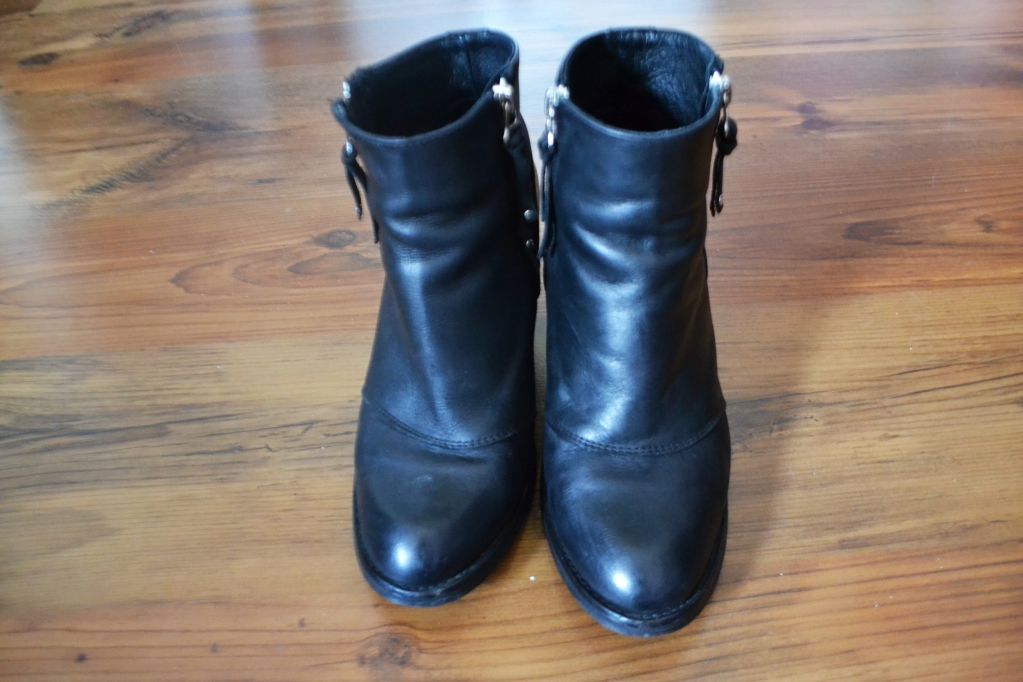 1. Topshop Ambush Zip Side booties
(
similar
here
)
This was my buy of the century I guess. I have ordered these loves in december per internet and since they came to mailing box I wore them. They are so comfortable (I flew about 14 hours with them on and my legs didnt hurt at all) and you can wear them with dresses, jeans or shorts and they still look very nice on! Although I have worn them really a lot, there are no mistake and the material is still so soft like it was back then. I really love these! They dont have these in Topshop anymore, but they re-made them in a bit cheaper version which you can find in the URL above!
Koupě těchto kozaček byla mojí koupí století. Objednala jsem si je v prosinci minulého roku a od té doby je nemůžu přestat nosit! Jsou velice pohodlné (letěla jsem s nimi 14 hodin a nohy mě z nich nebolely) a můžete je nosit k šatů, džínům nebo kraťasům - jsou prostě univerzální a vypadají dobře snad ke všemu. Nosila jsem opravdu hodně, ale není to na nich znát. Nejsou okopané ani nijak zničené a materiál, ze kterého jsou vyrobené, je pořád stejný jako když mi přišly. Jednodušše je miluji. V Topshopu už nemají přesně tyhle, co mám já, ale mají hodně podobnou, o trochu levnější verzi. Najdete je v odkazu pod obrázkem!
Follow on Bloglovin
-
Like me on Facebook
-
Follow on Twitter
-
Ask me on Formspring