These 2 days it was snowing all day, all night. To shoot something in this weather is not ideal, but I wanted to share with you this outfit and also make
a post. I have my favourite pants from Topshop and a lila sweater. I threw over a black coat and added Jeffrey Campbell Starburst boots and DKNY
tote. Finally I have found my Ray Bans, so I decided to take them out. I am finishing the Christmas decoration and getting ready for tomorrow. Seriously,
I cannot wait till tomorrow, because I will get (hopefully) a new lens for my camera which I am really excited about. It should make really better quality photos. I wish you all a lovely holiday and I hope that all your wishes will come true!
Poslední 2 dny jenom sněžilo. Fotit v tomhle počasí není nejideálnější. Na sebe jsem si vzala moje momentálně oblíbené skinny z Topshopu a k nim fialový svetr. Přes to jsem si oblékla černý kabát a doplnila kozačkami od Jeffreyho Campbella a kabelkou DKNY. Konečně jsem našla své Ray Bany (po 4 měsících), tak jsem si je musela vzít. Momentálně dokončuji poslední přípravy na zítřek, na který se nemůžu dočkat. Měla bych dostat nový objektiv,
který by měl zvýšit kvalitu fotek! Opravdu doufám, že s ním budu spokojená a že bude fotit dobře. Vám všem přeji Krásné svátky a doufám, že se Vám splní všechna přání!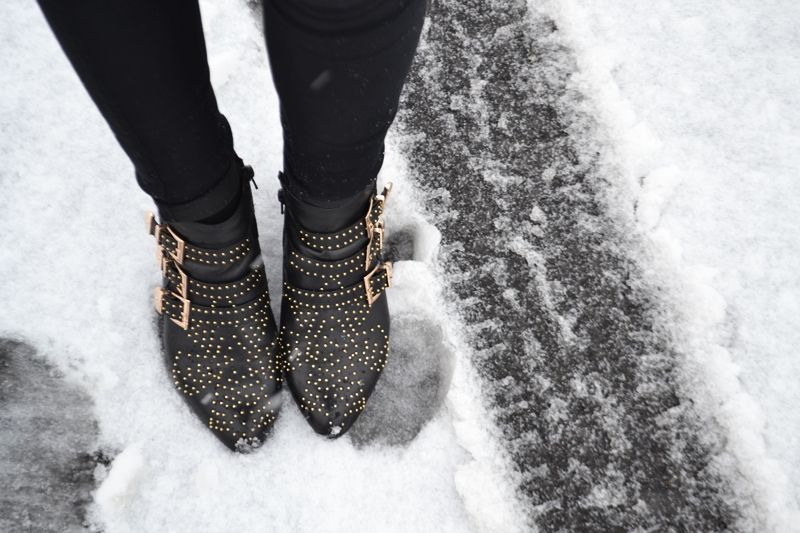 coat -
Guess /
sweater -
Mango /
skinny -
Topshop /
sunglasses -
Ray Ban /
bag -
DKNY /
watch -
Michael Kors /
bracelets -
Topshop, H&M,
Vjstyle
/
boots -
Jeffrey Campbell