Good morningg everyone! I hope you are doing well! 1st of September is slowly approaching and even though autumn doesn't officially start until 23rd of September, looking outside out of the window I get a different feeling. In today's post I would like to show you my top 10 must have items for this fall.
New seasons means new arrivals
and if you need some help picking what to put in your cart then continue reading!
Krásné ráno všem! Doufám, že se máte. 1.září je tu už zítra, a přestože podzim oficiálně začíná až 23.září, venku to vypadá jako by byl již v plném proudu. V dnešním postu bych Vám ráda představila mých 10 must haves pro tento podzim - sama si plánuji pořídit pár nových kousků na tuto sezonu - takže pokud například váháte
co nového
si na tuto sezonu pořídit, určitě pokračujte ve čtení!
1. TRENCHCOAT
One of my absolute fall favourites (not only) for this season is a trenchcoat. I think there is something so classy and elegant about it - you can wear it to your job, on a date, while shopping or just put it on when you take your garbage out. I already have a beige and a black one in my wardrobe but I am pretty sure I will get a khaki one as well!
Jedním z mých absolutních "must haves" je trenčkot. Podle mě je to naprostá nesmrtelná klasika, a bez ní bych si podzim rozhodně nedovedla ani představit. Ve své skříni mám již béžový a černý, a myslím, že tento rok svou sbírku rozšířím i o khaki.
2. SUITS
Business suits, and suits in general, I feel like will be very in this season. There is something sexy about them - I personally love a good blazer / pants and vest / pants suit for women! The IT colours to go for are black, beige, brown and white!
Další z kousků, na které se již těším, jsou ženské obleky, které podle mě vypadají fantasticky. Na podzim jsem si pořídila nový černý, a ještě uvažuji o koupi béžového i hnědého.
3. ANKLE BOOTS
No matter if black, brown or beige, simple or studded, heeled or flat -
ankle boots
is an absolute autumn must-have for autumn. If you don't own a pair yet, check out the selection at
SSENSE
!
Černé či béžové, s podpatky i bez, hladké i se cvoky - ať už zvolíte jakokouli verzi, kotníkové kozačky by v botníku neměly chybět žádné z nás. Skvělý výběr najdete především na e-shopu
SSENSE
!
4. LEOPARD PRINT
Another trends which I feel like will be big this fall is leopard print - no matter if you wear leopard printed shoes, bags or belts, you definitely won't be wrong! I just got a new leopard clutch which I personally cannot wait to wear!
Dalším trend. na který se tento podzim těším, je leopardí print. Myslím, že i úplně obyčejný outfit dokáže nadzdvihnout a já sama leopardí vzor miluju!
5. LEATHER ITEMS
To make the winter fashion a little bit more interesting when it's freezing cold, I tend to combine different materials, which create more interesting look. Leather is a material, which I wear a lot in winter and autumn. Mostly I wear my

leather leggings

, which I love. I invested in a pair of Balenciaga ones and I can only recommend to invest in pieces like that. I also wear a lot of leather jackets and skirts.
Móda v zimě je spíš o tom být v teple a neumrznout, když je venku mínus 20. Aby outfity nepůsobily nudně, často kombinuji různé materiály, čímž je outfit pak
zajímavější. Nejčastěji na mě uvidíte
kožené legíny
, které miluju. Rozhodla jsem se zainvestovat a pořídila jsem si kvalitní od Balenciagy. Myslím, že se jedná o nestárnoucí kousek, který se vyplatí mít kvalitnější. Kromě legín na mě můžete vidět i kožené bundy a sukně.
6. KNEE & OVER KNEE HIGH BOOTS
One of my other personal favourites are knee- and over-the-knee boots. I already have a few pairs of them and honestly I love wearing them so much! My favourite brands are without any doubts Stuart Weitzman and Jimmy Choo!
Jedním z mých osobních favoritů jsou i kozačky po i nad kolena. Doma mám hned několik provedeních v nejrůznějších barvách, materiálech a délkách. Mezi moje oblíbené značky patří Stuart Weitzman a Jimmy Choo.
7. PRINTED TIGHTS
Printed tights is also something which you will see me wearing A LOT. I feel like those kind of tights can elevate a very simple look within seconds and without trying!
Silonky s potisky jsou dalším elementem jak oživit úplně klasický outfit. Já sama tento trend miluju a už se nemohu dočkat až zase vytáhnu svoje Chanel!
8. LOAFERS
Loafers
look great, they are comfortable and you can wear them both during the day- and night time. I personally would love to invest into a new pair of loafers this season, perhaps from Chanel?
Mokasíny
nejsou jen pohodlné, ale také i skvěle vypadají. Myslím, že na babí léto jsou perfektním doplňkem - já sama uvažuji o nových od Chanelu.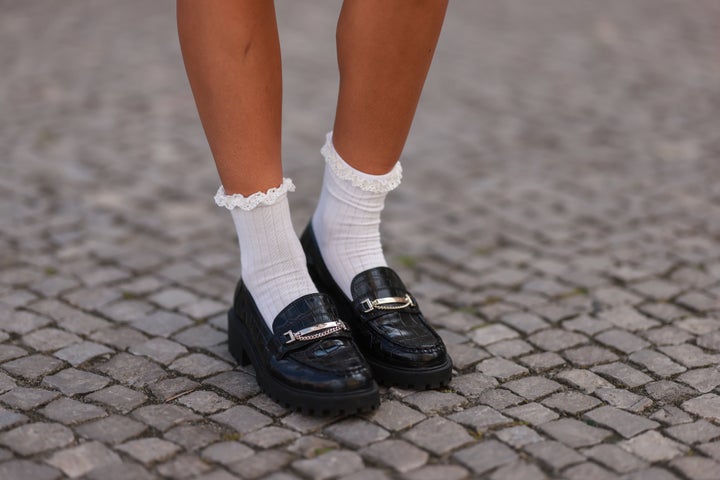 9. SOCKS
Talking about loafers, I can't forget socks. I know this won't be everyone's cup of tea but I personally find it a cute details which brings something special into the outfit!
A když už je zmínka o mokasínách - nemohu zapomenout ani na ponožky. Tento trend asi nebude pro každého, ale já sama ho miluji a plánuji nosit o 106.
10. SCARVES
Another thing that is connected with autumn and winter, just link chunky knits, are
scarves
. I own many, many of them. They are really cozy, warm and I love bringing some colour by adding a checked red scarf! This year I would like to get some simple, chunky, big and warm beige scarf.
Stejně tak jako svetry zbožňuju i
šály
. Myslím, že k podzimu patří stejně tak jako svetry. Ať už kruhové nebo klasické, jednobarevné i vzorované, šály jednoduše miluju. Tuhle sezonu bych si ráda koupila nějakou kvalitní velkou a teplou šálu - nejlépe v béžové barvě.